What's better than melt-in-your-mouth small batch peanut butter cookies? If you ask me almost nothing. Which is why I decided to come up with a recipe for a dozen delicious cookies. Well, that and even though he doesn't have a very big sweet tooth Luke loves peanut butter cookies so a small batch is just about perfect to satisfy a craving. I would suggest eating these cookies with a glass of milk. They're rich and creamy and oh so good. I would also suggest sharing your small batch peanut butter cookies with friends or family- because it's the nice thing to do- but I wouldn't judge you if you didn't.
Small Batch Peanut Butter Pecan Cookie Ingredients
1 mounded tablespoon packed brown sugar
3 tablespoons table sugar
2 tablespoons unsalted butter at room temperature
2 1/2 teaspoons egg, beaten
1/4 teaspoon vanilla extract
1/3 cup flour
1/8 teaspoon salt
1/8 teaspoon baking soda
1/3 cup plus 1 tablespoon peanut butter
1/4 cup chopped pecans
Preheat oven to 350.
In a medium sized bowl mix sugar, brown sugar, butter, egg, vanilla, peanut butter, and pecans using a hand mixer until well blended. In a small bowl mix flour, baking soda, salt, and pecans. Add flour mixture to the sugar mixture and mix until well blended.
Roll mounded teaspoonfuls of dough into balls and place on ungreased cookie sheets. Once all dough is balled and placed on cookie sheet use a flat bottomed glass to flatten the dough balls to about a 1/2 inch think. Edges of cookie will be rough. Using a fork press tines into flattened dough to make a slight crisscross design on each cookie.
Bake for 12-15 minutes or until lightly golden brown. Remove pan from oven and move cookies to wire rack to cool.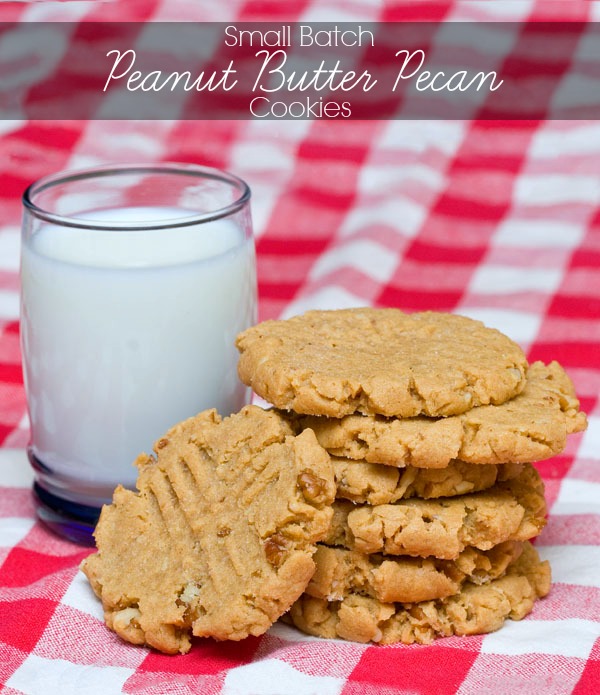 Other Evolving Mommy recipes you might enjoy: