Fresh Roma tomatoes from the garden taste so much better than store bought Roma tomatoes. Actually, any homegrown tomato will beat the pants off its store-bought counter part. Not that tomatoes wear pants.
Also, homemade tomato soup beats the pants off canned store-bought tomato soup.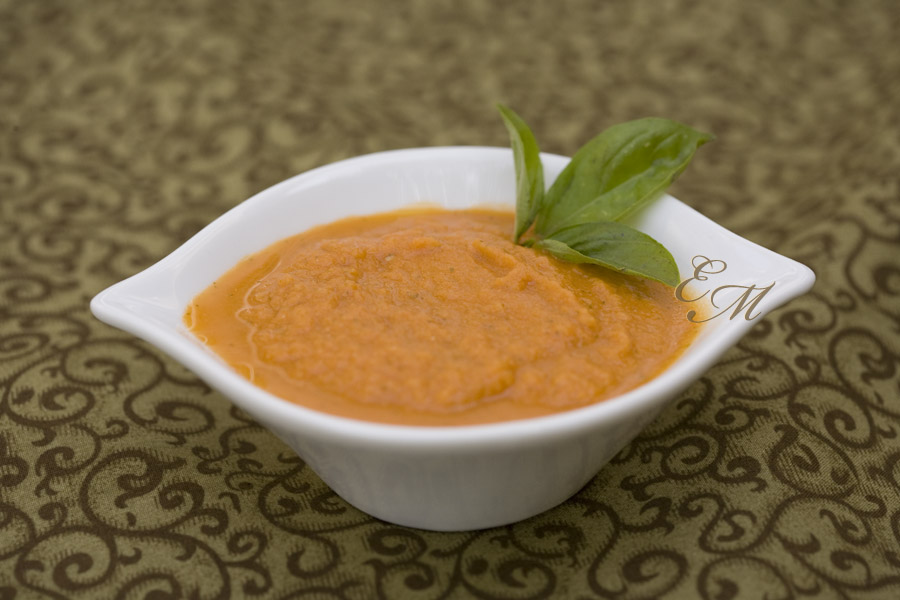 I cannot tell a lie. Well, lets clarify that statement. I cannot tell a lie about tomatoes. Or tomato soup.
Granted some store bought and/or canned tomato soups are okay there is nothing like fresh tomatoes and basil getting friendly in your own pot on your own stove.
I love this soup because it is thick, flavorful and pretty stickin' good for you. Not to mention that it is pretty stickin' easy too. I like to use freshly peeled tomatoes. Since you now know how to peel tomatoes– you can too, but if you really aren't in the mood to peel tomatoes or you can use canned tomatoes. Since I cannot tell a lie about tomatoes or tomato soup, I'll admit that I have used canned tomatoes in the recipe and thoroughly enjoyed the outcome too.
Now go forth and fall in love with soup. Oh, and I strongly urge you to try it with Winter Herb Bread either toasted or as a grilled cheese sandwich. So.stickin'.good.
Tomato-Basil Soup Ingredients
2 tablespoons olive oil
2 stalks celery, diced
3 carrots, diced
1 yellow onion, diced
2 cloves garlic,  minced
4 cups fresh peeled and diced tomatoes or 2 14.5-ounce cans diced tomatoes
1 14- ounce can vegetable broth
1 tablespoon butter
1/2 cup basil
1/3 cup cream
salt and pepper to taste
Warm Olive oil in a large sauce pan over medium heat. Saute celery, carrots, onion and garlic for about 5-10 minutes or until softened.
Add tomatoes and vegetable broth to pan and mixture for 20 minutes or until carrots and celery are very soft and tender. Reduce heat to medium. Add butter, basil leaves and cream to pan. Using an hand held immersion blender puree the soup mixture until smooth. (A traditional blender can also be used. scoop the mixture from the pan into the blender and blend until smooth. Blend a small amount at a time to ensure that the hot liquid doesn't explode out of the blender.)
Once soup pureed to s a thick yet smooth consistency salt and pepper to taste. Serve warm with crusty bread or hot grilled cheese sandwiches.