It's hot. Honestly I am kind of a summer time wimp. I don't really love the heat. Spring and Fall temp are more my thing.
You know what makes the heat easy to take? Something delicious and cold to keep me distracted from the melty feeling I experience when I step outside my air conditioned house. In steps Crunchy Banana Pops. Obviously I love the coldness of a frozen banana pop, but I also love the health factor of this frozen treat.  I would have no problem giving Maddy one of these everyday. Actually I would have no problem giving her a more than one.Or say, let myself eat more than one, not that I've done that or anything. These frozen treats are made with all healthy ingredients, but kids won't know the difference. They'll think they are getting something along the lines of ice cream but you will know they are getting something so much better.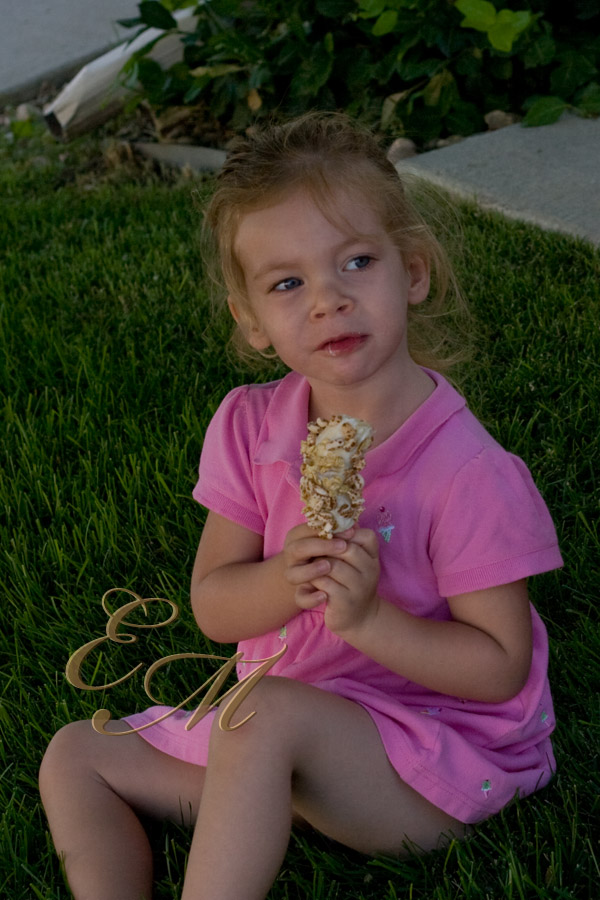 Plus, my Crunchy Banana Pops are so simple to make you will probably find yourself making them over and over again. Or letting your kiddos have fun in the kitchen making them and then eating them later.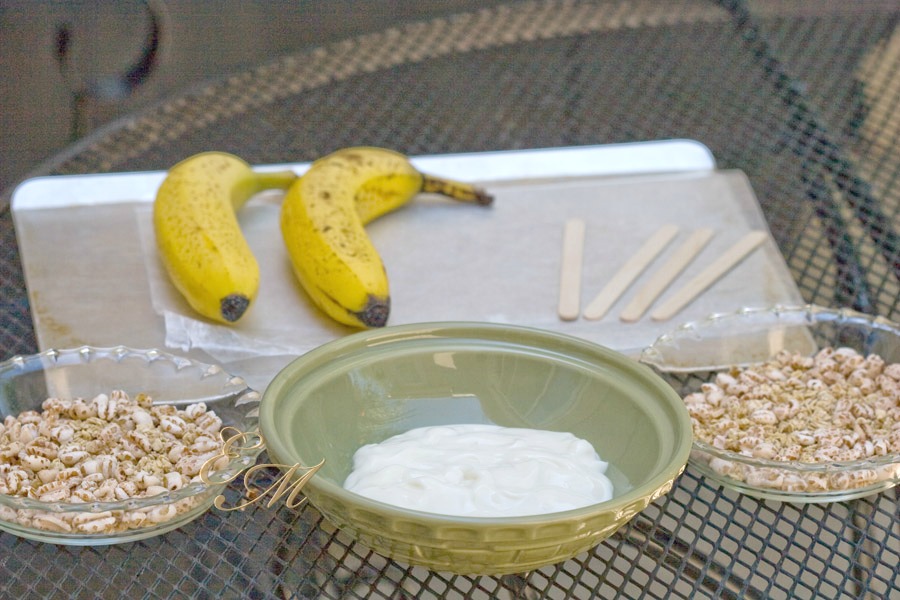 Crunchy Banana Pop Ingredients
(makes 4 pops)
2 medium bananas
1/2 cup plain yogurt
1 cup Granola, or other cereal (puffed wheat or other whole grain cereals work well)
four popsicle sticks
Cover a small baking sheet in waxed paper and set aside. Lightly crush cereal using your fingers. Cut bananas in half and peel them. Gently push popsicle sticks about 2/3 of the way into the cut end of the banana halves.
Work with one banana pop at a time. Spoon about 2 tablespoons yogurt onto banana and spread it around creating a thick and even layer of yogurt over the surface of the banana.
Sprinkle about a quarter of the cereal on the banana lightly pressing the cereal into the yogurt. Make sure to coat the yogurt completely with cereal.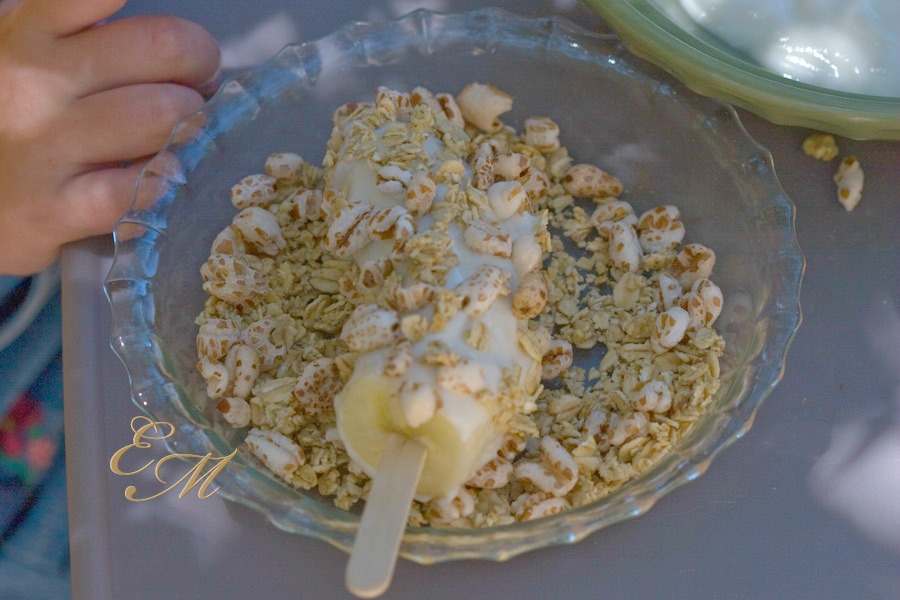 Lay the yogurt and cereal covered banana on the waxed paper covered baking sheet and start on the next banana. When each banana is covered place the baking sheet in the freezer for at least 2-3 hours. If you are not planning to eat them the same day wrap each crunchy banana pop in waxed paper to help it stay fresh.
Enjoy!
I love the simple, healthy, and low sugar ingredients listed above but if you are looking to jazz up your crunchy banana pops you can try different types of flavored yogurt or cereals. You can also mix in chopped nuts, mini chocolate chips or sprinkles with your cereal coating to add extra flavor, color or crunch.